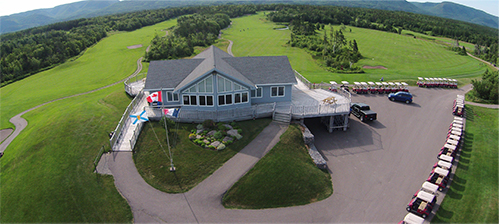 Our Clubhouse can be viewed from Les Trois Pignons, with ample overflow parking below the main parkade at the Arena or Kinsmen Ball Field. We're located to the north of the Acadian village of Cheticamp on the world famous Cabot Trail which commands sweeping vistas and skill building traps , bunkers as well as water obstacles.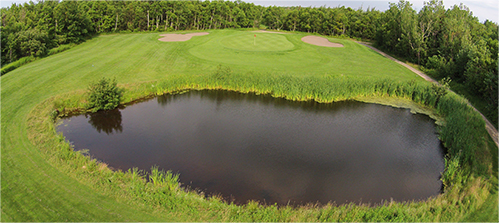 Accommodation packages abound and reserved tee times, with special combined rates are a phone call or e-mail away, so let us know and become a part of the masterpiece. Now that you know where we are – drive, fly, hike or boat to our beautiful village in the Gulf for a carefree vacation of golfing among friends. You will also find in Cheticamp first class restaurants specialized in all kinds of seafood, hiking trails leading to hidden salmon pools, breathtaking adventures in deep sea fishing, whale watching excursions, warm and irresistible sandy beaches, a night life suited to all tastes and all ages, with traditional French Acadian and Scottish music.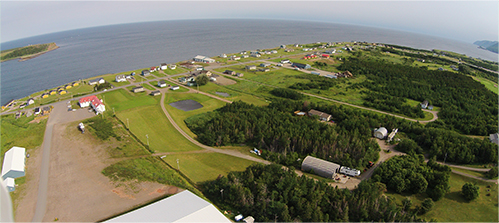 We're 2:15 hours from the Sydney Airport which accesses national and international flights several times a day for the travelers convenience and flying agenda. Flights arrive daily at the Halifax International Airport which is 4:00 hours from Cheticamp , and golfers can either rent a car for a pleasant journey through the pastoral beauty of Nova Scotia to our destination or reserve a seat on one of the connector flights to Sydney and golfers paradise. Once you disembark at Sydney, car rentals are available at the kiosks at the Airport and a leisurely drive through fishing villages and friendly folks brings you to Cheticamp, an Acadian treasure of food, good friends and challenging golf. If family members or friends wish to experience the history, boutiques, beaches, hiking trails, whale tours, bird watching, fishing, kayaking, sailing, tennis, horseback riding or uniqueness of the area by way of day-trips or casual encounters we offer a myriad of experiences for them to discover while you're driving on Cap-Rouge or sinking a put on Warrec.
Come and visit with us! Experience the warm and simple welcome of the Acadian people. At Le Portage golf course, we guarantee you'll feel right at home. Bienvenue and may your drives be straight.